The downloadable pamphlet offered below provides all the information one needs to perform the First Saturday Devotion as Our Lord and Our Lady requested through Sr. Lucy.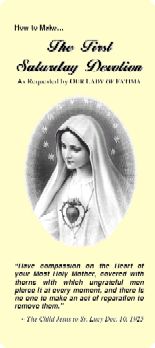 Click here for our First Saturday Pamphlet.

This pamphlet is intended to be printed on the front & back of a single piece of paper. After printing, simply fold the pamphlet on the dotted lines — then use and distribute.

NOTE: Be sure when printing that "Page Scaling" is set at "None." (Adobe may default the "Page Scaling" setting to "Fit to Printable Area" or "Shrink to Printable Area" which will cause the pamphlet to print in such a way that the columns won't be lined up properly for folding.)
About The Five First Saturdays
One of the requests made by Our Lady of Fatima (early 20th century) was the "Communion of Reparation on the First Saturdays." This devotion is given to us specifically as a means of making reparation to her Immaculate Heart. It has a notable correlation with the devotion of the Nine First Fridays in reparation to the Sacred Heart of Jesus. The First Fridays were asked for by Our Lord through St. Margaret Mary Alacoque in Paray-le-Monial, France in the 17th century. As Cardinal Cerejeira, Patriarch Archbishop of Lisbon, once expressed:
Fatima will be for the cult of the Heart of Mary what Paray-le-Monial was for the cult of the Heart of Jesus. Fatima is, in a certain sense, the continuation, or rather the conclusion, of Paray-le-Monial: Fatima reunites those two Hearts, which God Himself united in the divine work of Redemption.
During the apparition in which Heaven asked us to make the devotion of the First Saturdays, Our Divine Lord pleaded to Sr. Lucy (one of the seers at Fatima): "Have compassion on the Heart of your Most Holy Mother, covered with thorns with which ungrateful men pierce it at every moment, and there is no one to make an act of reparation to remove them."
Our Lady stated that by fulfilling her requests "many souls will be saved and there will be peace [i.e. world peace]." We will not have this peace by any other means, for she also stated: "Only I can help you." Furthermore, she promises "to assist at the moment of death, with all the graces necessary for salvation, all those who" will make the First Saturdays.

To learn more about the apparitions of Our Lady at Fatima and the important events surrounding them, visit: fatima.org.
( Back to List of Titles )