1. Sicut in Cælo et in Terra
An Abridgement of The Secret of the Divine Will — introducing the spirituality of the most sublime union with God
— by Robert T. Hart
2. Attention Catholics
Helpful reminders for Catholics living in the modern confusion
— by Robert T. Hart
3. Those Who Serve God Should Not Follow The Fashions
Treatise on Christian Modesty — by Robert T. Hart
4. The Novus Ordo Question
Contains surprising information and facts about the Novus Ordo Mass little known by the general Catholic population.
— by Robert T. Hart
5. Mortalium Animos (On Religious Unity)
Encyclical against the Ecumenical Movement — by Pope Pius XI
6. We Have Found The True Faith
To make known to all who seek the truth, the one, true religion revealed by God — by Robert T. Hart
7. The Mystery Of The Wizard Clip
The conversion of a Lutheran Family of the primitive U.S.A., through a "most wonderful manifestation of Godís benevolence."
8. A Soul in Hell: The Story of Annette
A deceased soul, Annette, manifests herself to her former friend Claire. She tells her not to pray for her because she is in hell and goes on to explain how she ended up there.
9. The Holy Name of Mary
On devotion to the Holy Name of Mary. Taken from The Glories of Mary, by St. Alphonsus Liguori
10. The Last Times
On the serious times we are living in and how Our Blessed Mother wishes to help us to save our souls.
— by Rev. Fr. Jacques Emily
† Downloadable How to Pray the Rosary Pamphlets
† Downloadable First Saturday Devotion Pamphlets
† Downloadable Miraculous Medal Leaflets
† Downloadable hymn, "Mary's Blossoms & Thorns"
This hymn honors Our Lady's "Martyrdom of Solitude" which, as revealed to the Mexican Mystic, Venerable Cabrera de Armida (d. 1937), was the greatest of all her Sorrows.
Click here for » Links « and for » Traditional Catholic Goods « .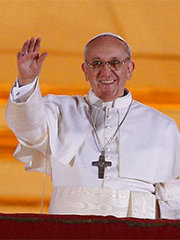 Pray daily for our Holy Father, Pope Francis I!