The downloadable leaflet provides information on the origins, purpose and power of the Medal of the Immaculate Conception (commonly called the "Miraculous Medal").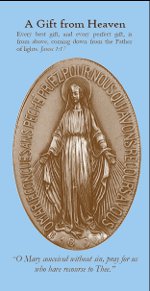 Click here for our Miraculous Medal Leaflet.

This leaflet is intended to be printed on the front & back of a single piece of paper. Two leaflets will be printed on each sheet. After printing, cut the two leaflets apart and then fold them into thirds so that the image of front of the Miraculous Medal is on the front, and the image of the back of the Miraculous Medal is on the back. Freely print and distribute!
About The Miraculous Medal
On November 27, 1830 the Blessed Virgin appeared, standing upon a globe, crushing the head of a serpent with her feet. Rays of light streamed from her hands. Surrounding the image of Our Lady were the words "O Mary conceived without sin, pray for us who have recourse to Thee." The Blessed Virgin told Catherine, "Those who repeat this prayer with great devotion will be in a special manner under the protection of the Mother of God." She then instructed Catherine: "Have a medal struck upon this model. All those who wear it, when it is blessed, will receive great graces, especially if they wear it around the neck."
After conducting a thorough investigation to verify the authenticity of St. Catherine's visions, the Church approved the making of the medal — officially called, "The Medal of the Immaculate Conception." About this time a deadly cholera epidemic broke out in Paris. By February of 1832 it had claimed the lives of more than 20,000 Parisians. It was during this same year that the first medals were struck. When the Sisters of Charity began to distribute them, so many cures and protections were reported that it soon earned the nickname by which it is commonly known today: The Miraculous Medal.
Miraculous Medals may be obtained at virtually any Catholic bookstore.
( Back to List of Titles )