During his reign, Pope Pius XI reminded us: "Among all the devotions approved by the Church none has been favored by so many miracles as the devotion of the Most Holy Rosary." History records that it has, more than once, saved empires and nations from destruction. And Pope Pius XII has assured us: "There is no surer means of calling down God's blessings upon the family...than the daily recitation of the Rosary."
The pamphlets offered below provide all that is needed to learn how to say the Rosary. We strongly encourage its daily recitation. Our Lady repeatedly requested of us at Fatima (among other things) that we pray the Rosary every day in Her honor "in order to obtain world peace...because only she can help you."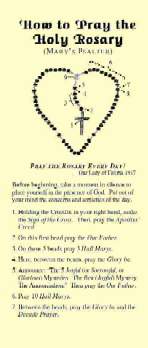 Click here for our Regular Rosary Pamphlet.

Click here for our Pocket Rosary Pamphlet.

These pamphlets are intended to be printed on the front & back of a single piece of paper. The "pocket size" pamphlet yields two pamphlets per sheet and will need to be cut in two. After printing, simply fold the pamphlets on the dotted lines in a "Z" pattern — then use and distribute.

NOTE: When printing, "Page Scaling" must be set at "None." (Adobe may default this setting to "Fit to Printable Area" or "Shrink to Printable Area" which will cause the pamphlet to print in such a way that the columns won't be lined up properly for folding.)
( Back to List of Titles )
» Why 15?« Click here to learn from St. Louis De Montfort why Our Lady gave us Fifteen Mysteries.