COMING SOON!
(Pending ecclesiastic approval of The Secret of the Divine Will)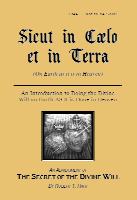 Click icon to download "Sicut in Cælo et in Terra" in Printable Booklet format
(PDF File, 000 K).

For instructions on printing this booklet Click Here

Click here » Read Online « if you wish to first review "Sicut in Cælo et in Terra" in readable format.
[NOTE: As the above booklet is not yet available, you may wish to view our Introduction to Luisa page for a brief, beginner's introduction to Luisa and to her spiritual doctrine. Those already familiar with this spirituality may wish to go to Be Faithful and Attentive to view selected chapters from this "Handbook for Living in the Divine Will."]
About This Title
Two thousand years ago, Our Divine Saviour, Jesus Christ, hid as in secret, the Sanctity of Living in the Divine Will in the prayer He left us. He did this so that all Christians in every age might pray that it be manifest: Advéniat Regnum Tuum; Fiat Volúntas Tua; Sicut in Cælo et in terra — "Thy Kingdom come, thy Will be done on earth as it is in Heaven."
Throughout Church history, Christians everywhere have faithfully prayed this prayer. But who among them has really known all that he has been praying for? The full meaning has been kept from us and remained hidden in the secret counsels of the Trinity. Yet now, through the spiritual diary the Servant of God Luisa Piccarreta — known as the Book of Heaven — a clearer meaning of these words has been made known to us. We now know that in this prayer we are calling Our Heavenly Father to send us his Kingdom that all might come to do the Will of God here on earth in the same manner that it is done in Heaven. Already today, Holy Mother Church has honored a number of holy souls that have lived this spirituality in various manners. These would include souls such as: Bl. Elizabeth of the Trinity, Ven. Concepción de Armida, Servant of God Archbishop Luis Maria Martinez, St. Maria Faustina of the Blessed Sacrament, St. Maximilian Maria Kolbe, Bl. Dina Bélanger and still others.
If what we have said so far has left you intrigued, you may wish to download the introduction booklet to Luisa's spirituality offered below. This booklet, Sicut in Cælo et in Terra, is an abridged version of the book, The Secret of the Divine Will, by Robert T. Hart (available from The Center for the Divine Will — NOTE: Both the The Secret of the Divine Will and the abridged downloadable booklet will only begin to be available after the book has received ecclesiastical approval). While it does not contain all the details and doctrinal support found in the full version, it does contain enough information to get you started in both understanding and practicing this sublime spirituality of Living in the Divine Will. And, even with the condensing there remains at least minimal documentation to show that this doctrine of Living in the Divine Will is in conformity with traditional Catholic Church teaching. The booklet is offered free of charge in a downloadable PDF format. After downloading, it will then be easily printed into a handy booklet for one's own use and for free distribution.