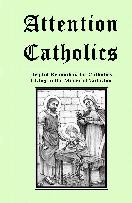 Click icon to download "Attention Catholics"
in Printable Booklet format (PDF File, 490 K).

For instructions on printing this booklet Click Here

Click here » Read Online « if you wish to first review "Attention Catholics" in readable format.
About This Title
"Attention Catholics" contains many helpful reminders of what we must believe and what we must do to save our souls and to be pleasing to God.
Part I consists of important truths upon which we all need to meditate: Death and Judgment, the Reality of Hell and of Purgatory, and the Wonderful Reality of Heaven.
Part II consists of helpful reminders of what every soul needs to do to be pleasing to God: in one's prayer life, in the House of God, when receiving the Sacraments of Holy Communion and Penance, and in one's manner of dress. (The section on one's manner of dress is a condensed version of the booklet on modesty — see No. 3 on the booklist).

Finally there is an Appendix consisting of an extensive Examination of Conscience.
( Back to List of Titles )