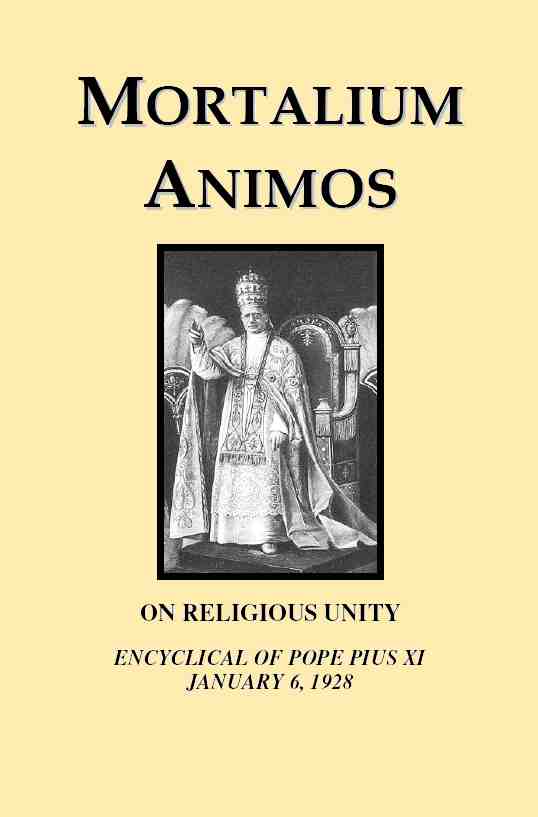 Click icon to download the "Mortalium Animos"
in Printable Booklet format (PDF File, 253 K).

For instructions on printing this booklet Click Here

Click here » Read Online « if you wish to first review "Mortalium Animos" in readable format.
About This Title
"Mortalium Animos" was published by Pope Pius XI in 1928. Never having been revoked, it remains the Church's true and authoritative teaching on Religious Unity (Ecumenism).
This encyclical is short and easy-to-read. It contains sensible, down-to-earth instruction clearly conveying the Church's perennial teaching on this subject. In today's atmosphere of religious indifferentism and false ecumenism, it is vital reading for all Catholics desiring to remain true to the fullness of the faith.
For, the new "Ecumenical Venture" promoted by today's churchmen (which is not a doctrine demanding an assent of Faith), stands in direct opposition to the Church's perennial teaching. Cardinal Kaspar, the head of the Pontifical Council for Christian Unity has stated: "Today we no longer understand ecumenism in the sense of a return, by which the others would 'be converted' and return to being 'Catholics'" (Adista, February 26, 2001).
But in contrast, in Mortalium Animos we find Pope Pius XI confirming again what has always been the mind of the Church on Religious Unity: "The union of Christians can only be promoted by promoting the return to the one true Church of Christ of those who are separated from it, for in the past they have unhappily left it." He also stated: "In reality beneath these enticing words and blandishments [which promote the modern idea of ecumenism] lies hid a most grave error, by which the foundations of the Catholic faith are completely destroyed."
Saint Maximilian Maria Kolbe took this teaching to heart, never giving way to the spirit of religious indifferentism. To acheive Christian unity he proclaimed that it was the goal of his Knights of the Immaculata (the Blessed Virgin Mary) to convert all people, whether Protestant, Jew, or Muslim to the Catholic Faith. Thus, he wrote in his diary on April 23, 1933:
"There is no greater enemy of the Immaculata and Her Knighthood than today's ecumenism, which every knight must not only fight against, body and soul, but also neutralized through diametrically opposed action and ultimately destroy" (Cited in The Immaculate, Our Ideal, Fr. Karl Stehlin, p. 37. Warsaw: Te Deum, 1995).
Pope Pius XII would again confirm that this is the mind of the Church in his 1949 Instructio: "True reunion can only come about by the return of the dissidents to the one true Church of Christ" (Instructio [The Instruction from the Holy Office on the Ecumenical Movement] Dec. 20, 1949).
All Catholics should read this important encyclical so as to know the Church's true doctrine on Religious Unity and to avoid being confused by the trendy practices of the day which are in direct contradiction to this teaching.
( Back to List of Titles )