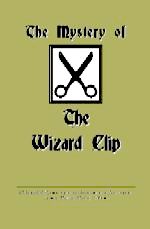 Click icon to download "The Mystery Of
The Wizard Clip" in Printable Booklet
format (PDF File, 382 K).

For instructions on printing this booklet Click Here

Click here » Read Online « if you wish to first review
"The Mystery Of The Wizard Clip" in readable format.
About This Title
"The Mystery of the Wizard Clip" is "One of the most wonderful manifestations of Godís benevolence during the struggles of the primitive Church in these United States ó" such is the impressive estimate of the learned Jesuit scholar, Father Joseph M. Finotti, concerning the extraordinary but little known spiritual drama which took place some 200 years ago near Martinsburg, West Virginia.
And in fact, in the year 1797, on a farm near the present Middleway, Jefferson County, West Virginia, a Lutheran family was saved from diabolical persecutions by a Catholic priest and then instructed in the Catholic religion by a mysterious, invisible Voice from the other world, that continued for seventeen years to enlighten, guide, and inspire these former Protestants and their Catholic friends to live as fervent and model Christians. Frequently during those years, this mystic Voice, whose "influence was always beneficial," communicated timely warnings, prophecies, and messages of charity and mercy for many persons, which resulted in numerous conversions. That such seemingly miraculous phenomena did actually take place has never been questioned by serious historians.
As the events of this true story bring to light the teaching of the necessity of the Catholic Church for salvation, it seemed appropriate to include Rev. Michael Muller's "Questions And Answers On Salvation," first published in 1875. As the truths of the Salvation can never change, the teaching contained in this article remains just as valid today as it was in the 19th century.
Distribute this wondrous story of the Wizard Clip so that many others may benefit from its revelations.
( Back to List of Titles )