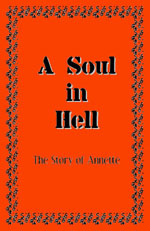 Click icon to download "A Soul in Hell:
The Story of Annette" in Printable Booklet
format (PDF File, 272K).

For instructions on printing this booklet Click Here

Click here » Read Online « if you wish to first review
"A Soul in Hell" in readable format.
About This Title
What is related in these pages is of the greatest importance. Though the events in question took place in Germany, what we give here is, as far as we are able, a faithful translation from the original language. Translations have also been made into various other languages.
The Nihil obstat and the Imprimatur were granted by the Pope's Vicar in Rome. While these marks of approval cannot guarantee the veracity of the revelation, they do guarantee the text free from doctrinal error. Thus we can be certain that nothing in these pages departs in any way from the Church's established doctrine on Hell.
These frightening pages must sound a WARNING for us, describing as they do a way of life which is very common in present-day society. The Divine Mercy, in allowing these revelations, lifts for us a corner of the veil hiding those most awesome mysteries which await us all at the term of our days on earth.
WE HOPE THAT MANY SOULS WILL HEAR AND TAKE HEED.
( Back to List of Titles )