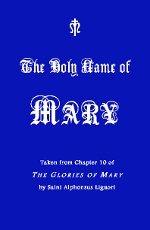 Click icon to download "The Holy Name
of Mary" in Printable Booklet format
(PDF File, XXX K).

For instructions on printing this booklet Click Here

Click here » Read Online « if you wish to first review "The Holy Name of Mary" in readable format.
About This Title
"The Holy Name of Mary" is (as mentioned above) excerpted from St. Alphonsus's popular book, The Glories of Mary. The reason for his book's popularity is because it teaches us from the Church Fathers and the Saints what immense glory God has given to the Blessed Virgin Mary (after Christ's Humanity we can surely say that She is God's masterwork of Creation). It also leaves the reader with no doubt as to the tremedous advocate we have in the Blessed Virgin Mary. She is the highest creature in Paradise, the Queen of Heaven and earth; yet She is also our Mother who loves each of us more than all mothers combined for their children! Her motherly love is so intense and the power of Her intercession so great that no matter how sinful Her children have become, She always obtains mercy for those who, repenting, invoke Her Name with confidence. Thus, this little booklet has been produced to give the reader a sample of what St. Alphonsus compiled from the Church's treasury concerning the Blessed Virgin Mary and to inspire them to confidently call on their Heavenly Mother in all their necessities.
( Back to List of Titles )