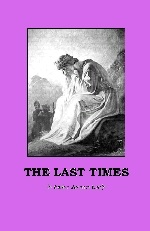 Click icon to download "The Last Times"
in Printable Booklet format (PDF File, 252 K).

For instructions on printing this booklet Click Here

* Those who prefer to send for printed copies of "The Last Times"
may request them from:

Saint Aloysius Retreat House
19101 Bear Creek Road — Los Gatos, CA 95033 — USA
(408) 354-7703

Click here » Read Online « if you wish to first review "The Last Times" in readable format.
About This Title
"The Last Times" is a serious but touching letter from a pastor of souls to his flock. His purpose for writing this letter is simply the fatherly concern he has for them during these times of so great danger to their eternal salvation.
Drawing on three of Our Lady's authentic messages (La Salette, Fatima & Quito), Fr. Emily states: "My priestly heart wants to echo once more for your souls the words of Our Heavenly Mother...." As these messages were given us by Our Lady specifically to guide us through the present times, Fr. Emily uses them to point out the dangers that currently surround us as well as the means given us by Our Lady to protect ourselves from these dangers and thus save our souls.
In this booklet Fr. Emily also briefly reveals the diabolical Masonic plan that has been crafted to corrupt man and to destroy the Church. Once having understood this, the reader will easily see that that plan has already been greatly and successfully put into effect.
While making it clear that the times are, indeed, more dangerous than ever for our souls, he insists there is no need for discouragement. Rather — as he pleads from his priestly heart — we must only heed the voice of Our Heavenly Mother.
( Back to List of Titles )