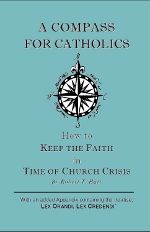 Click icon to download "A Compass For Catholics" in Printable Booklet format
(PDF File, 450 K).

For instructions on printing this booklet Click Here



Click here » Read Online « if you wish to first review "A Compass For Catholics" in readable format.
About This Title
Today the Church is suffering through what the well-known, American Jesuit, Father John A. Hardon (RIP) once called: "…the worst crisis in its entire history." Confusion reigns as we witness Church authorities contradicting one another over serious matters of Church teaching and discipline. Our Lady at Akita, Japan predicted this several decades before:
"The work of the devil will infiltrate even into the Church in such a way that one will see cardinals opposing cardinals, bishops against bishops. …the Church will be full of those who accept compromises and the demon will press many priests and consecrated souls to leave the service of the Lord" (October 13, 1973).
In such a time of crisis, how can average Catholics know the truth that they may save their immortal souls? This is a crucial question.
In A COMPASS FOR CATHOLICS, you will find that there is a clear answer. For, Our Lord does not leave his faithful abandoned.
When the ecclesiastical authorities become disoriented in a time of crisis, rather than blindly following them into error, the faithful are to cling to the Deposit of Faith and all the traditions vital to that same Faith. In these pages then, you will learn exactly what that Deposit is, and what is necessary to remain faithful to it, in order not to be led into any error. Give this booklet to fellow Catholics to bring them to Tradition.
Among the list of aids given for keeping the Faith "whole and inviolate," in this time of crisis is the Traditional Latin Mass. Therefore, at the end of the booklet, an Appendix has been added containing an enlightening treatise entitled, Lex Orandi, Lex Credendi, that gives reasons for this important advice.
"…stand fast; and hold the traditions which you have learned, whether by word, or by our epistle" (2 Thess. 2:14).
( Back to List of Titles )